Thanksgiving Trade Night: Spread the Word
The Visit USA Thanksgiving Trade Night is back and will take place on Night on 16th November 2023 from 6pm in the Bourbon Bar of the Odeon, Harcourt Street, Dublin.
Visit USA's Executive Director Tony Lane says: 'This year's focus is on having fun and it's our way of saying a massive THANK YOU for selling the USA as holiday destination!'
There will be awesome American food, cool cocktails and incredible entertainment.
There will also be fabulous prizes to be won on the night, including a €1,000 voucher for flights with Aer Lingus!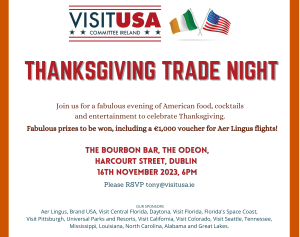 To be part of this incredible event, please RSVP tony@visitusa.ie by close of business 8th November.