Etihad Airways Unveils New Lounges at Abu Dhabi International 's New Terminal A
Abu Dhabi, UAE – Etihad Airways, the national airline of the UAE, has unveiled flagship premium lounges at Abu Dhabi International Airport's new Terminal A. This follows Etihad making history when it operated Terminal A's first commercial flight on 31 October, and the new lounge is revealed ahead of the airline's full transition to the new Terminal which is phased to take place between 9 and 14 November.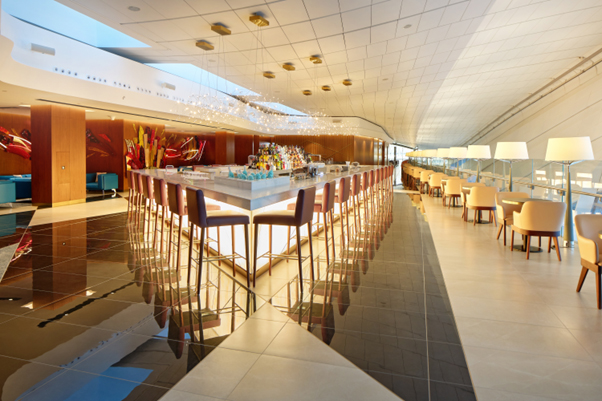 Etihad's impressive new lounges span three floors of Terminal A's north side, nestled between Piers C and D. The First and Business lounges feature a range of dining options, relaxation and entertainment spaces to suit all guests, including the stunning Constellation Bar at the enclosed Roof Lounge.
"When designing the Etihad Lounges in our new home, Terminal A, our teams thought through every detail, ensuring an experience that will delight our guests from the moment they step through the door," said Antonoaldo Neves, Chief Executive Officer, Etihad.
"The lounge is a hugely important aspect of our guests' journey and we wanted to curate an impressive experience that will leave them wanting to fly again soon. In true Etihad style, we've been innovative with the design and will offer a selection of memorable experiences whether our guests choose to relax, indulge in various dining options or enjoy a refreshing drink at the signature Constellation Bar," he continued.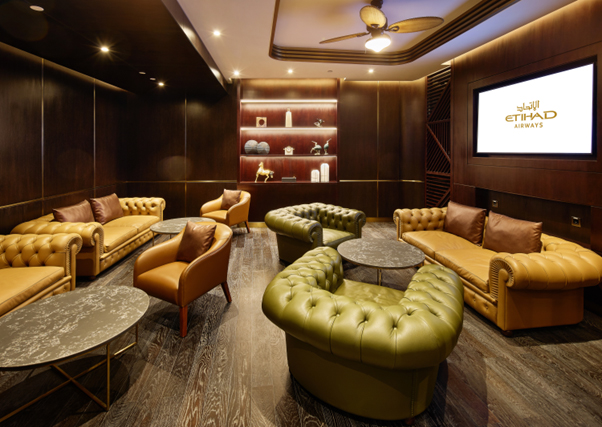 The Etihad lounges are accessible to guests flying in Etihad's The Residence, First and Business Class and Etihad Guest members with eligible tier status. Guests flying in Economy who wish to enjoy the exclusive lounge space can purchase access to Etihad's Business Lounge subject to availability.
The Lounge is conveniently located with access to three gates offering direct-lounge boarding on selected flights, meaning guests in premium cabins can board straight from the Lounge for convenience and speed.
Within the Lounge, expansive views of the runway can be savoured from the calm and tranquil retreat offered in the East and West Study, which offers guests the perfect place to watch aircraft take-off or come in to land.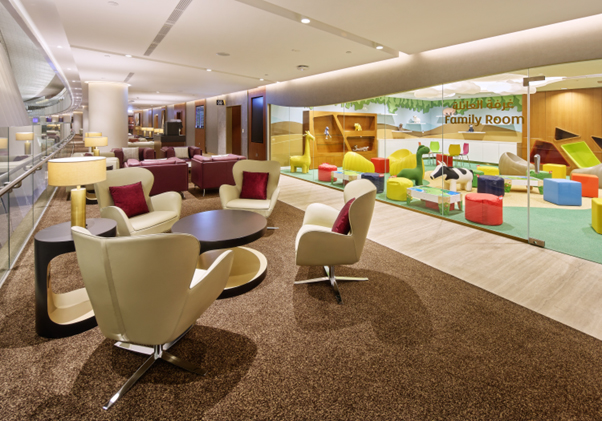 Dining decadence and Rooftop lounge
Etihad's Business Class lounge features an array of dining experiences. Liwan Global Dining is Etihad Lounge's informal, all-day dining restaurant which offers an abundance of choice featuring live cooking stations, Emirati and Middle Eastern cuisines alongside international favourites inspired by the destinations Etihad flies to.
Guests can also choose to dine at the Roof Lounge at select periods and enjoy an international buffet of hot and cold dishes.
For those preferring something lighter, there are multiple stations across the lounge where guests can help themselves to a selection of snacks as well as hot and cold drinks.
The Constellation Bar within the Roof Lounge is decorated with a 172 piece, 25m long bespoke glass lighting sculpture– Panora – which depicts the Abu Dhabi city skyline. The bar will serve a wide selection of cocktails, mocktails, wines and beverages, and is set to become a destination in itself for frequent travellers.
The Relaxation Rooms provide private spaces complete with day beds and plush Armani Casa furnishings for guests to catch up on rest and refresh in one of the 18 beautifully appointed shower suites before their flight. Those preferring a more entertaining experience can head to the Games Room which is fully equipped with table football, air hockey and digital gaming options for all to enjoy.
Family travellers continue to be important to Etihad and a bespoke Family Room has been thoughtfully designed with young travellers in mind, and comes packed with games, toys and books to keep little ones entertained.
Additionally, Chesterfield sofas bring plush comfort to the Smoking Lounge for cigarette and cigar smokers.
Prayer rooms have also been thoughtfully designed with ensuite ablution areas for comfort and convenience.
A First class welcome
The exclusive First lounge offers a dedicated reception lobby for Etihad's most premium guests and a private elevator to access the Rooftop Lounge on the top floor of the complex.The First Lounge Dining Room offers an elevated dining experience with à la carte dining and a fine and boutique wine selection recommended by in-house experts. The cuisine will reflect the best of Emirati gastronomy as well as the destinations Etihad flies to.
In The Parlour for First customers will be treated to a decadent selection of pastries, desserts and a signature tea experience in an elegant setting. The experience includes an array of tea ceremonies as well as signature coffee presentation.
For the ultimate relaxation and indulgence before flying, First class Private Suites are available for guests to work, relax and dine in complete privacy. The Private Suites are complimentary for guests flying in The Residence and available for booking by all other First class lounge guests.
On arrival in Abu Dhabi
In addition to the First and Business class lounges in Departures, premium guests arriving in Abu Dhabi with pre-booked chauffeur services will be invited to visit the Etihad Chauffeur Lounge to shower, refresh or simply grab a quick snack or drink before meeting their chauffeur.