SunExpress is represented in Ireland by Jens Bachmann (AVIAREPS Office Manager Ireland).
UBAI—Turkish leisure carrier SunExpress has placed an order with Boeing for up to 90 737 MAX-family aircraft which would see its fleet more than double over the next decade should it take up all of its purchase rights.
The firm portion of the order totals 45 aircraft: 28 737-8s and 17 of the yet-to-be-certified 737-10. The Antalya, Turkey-based airline also has five options and up to 40 purchase rights for unspecified MAXs.
SunExpress currently operates an all-737 fleet comprising 66 aircraft—a mix of -8s and -800NGs—with which it operates 175 routes connecting 30 countries. The order was the first to be announced on day one of the Dubai Airshow and represents the largest for the carrier in its 33-year history.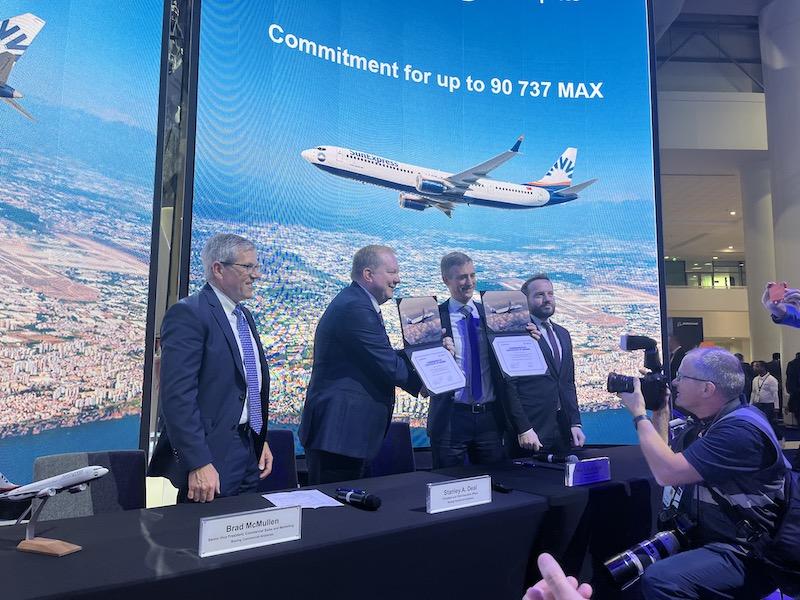 The -10s will also give SunExpress, a joint venture between Turkish Airlines and Lufthansa Group, an aircraft configured for more than 200 passengers for the first time.
"We're operating at almost 150% ASK compared to pre-pandemic levels," SunExpress CEO Max Kownatzki said as he announced the order. "We can't get enough capacity at the moment."
SunExpress aims to operate a 150-aircraft fleet by 2033. Kownatzki said it is pushing for timely deliveries to support that growth trajectory.
"The earlier the better," Kownatzki said. "That's kind of the MO we're currently operating under."
Negotiations had been ongoing for 12 months, the CEO said, adding that the carrier has substitution rights within the order. The aircraft join the existing 33 -8s in SunExpress' order book, as shown by the Aviation Week Network Fleet Discovery database, which come from a previous order for 42 of the type.
Credit: Christine Boynton/Aviation Week Network