Over 6,000 Turkish Accommodation Facilities Now Sustainability Certified
As of 30th September, 6,156 accommodation facilities in Türkiye have been certified for their sustainable practices, as part of the country's ground-breaking National Sustainable Tourism Programme developed with the Global Sustainable Tourism Council (GSTC).
The properties, which are mainly in the Antalya, İstanbul and Muğla provinces, reflect the rapidly rising number of sustainability-certified facilities in Türkiye, and the growing efforts by the Turkish tourism industry to reduce its carbon footprint by utilising environmentally designed structures and sustainable practices. This country-wide initiative supports local cultures and economies while providing guests a meaningful and memorable stay.
First country in the world to sign a protocol with GSTC.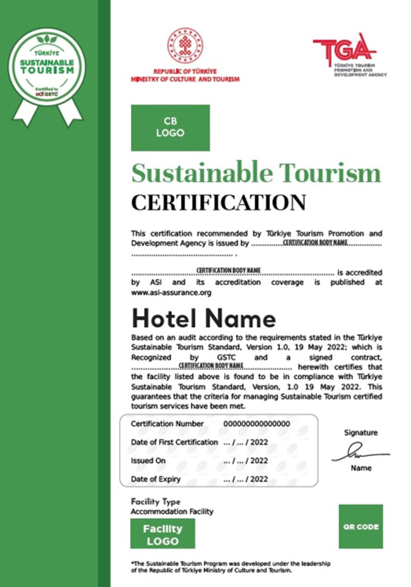 To achieve sustainable transformation in the tourism sector, Türkiye signed a cooperation agreement to develop a national program last year with the Global Sustainable Tourism Council (GSTC), which establishes and manages global standards for travel and tourism.
Türkiye is the first country in the world to sign this agreement on a government level. In line with its three-year plan to restructure its tourism industry, Türkiye has developed a National Sustainable Tourism Programme. Through the Programme, Türkiye will incorporate sustainability principles into all tourism policies, encompassing destinations, tour operators, and accommodation facilities.
The primary goal of the National Sustainable Tourism Program is to ensure that accommodation facilities obtain the Sustainable Tourism Certificate, which consists of 42 globally accepted criteria. During this process, accommodation facilities are subject to an independent evaluation for certification, which is repeated annually. Through effective sustainability planning, verification/certification also enables facilities to improve their sustainability efforts continuously.
With this increased awareness, the number of sustainability-verified/certified facilities in Türkiye is rapidly growing. According to Türkiye's National Sustainable Tourism Programme, all facilities must have a Sustainable Tourism Certificate by 2030.
Responsible Hospitality
Türkiye's National Sustainable Tourism Programme aims to maximise social and economic benefits for local people while protecting cultural heritage and conserving biodiversity, ecosystems and natural beauties. In addition, the Programme aims to reduce pollution and save resources, ensuring that tourism is environmentally friendly in every aspect.
Accommodation facilities that earn a Sustainable Tourism Certificate through the Programme provide guests with a world-class sustainable accommodation experience while also helping to protect the environment. They achieve this with facilities that enhance the visitor experience via environmentally friendly practices also benefit the local community; implementing and carrying out such procedures in a fair, responsible, inclusive and sensitive manner supports and contributes to preserving the unique values and culture of local populations and communities.
In Türkiye, the evaluation of accommodation facilities is conducted under four main categories: Sustainable Management, Cultural Impacts, Socio-economic Impacts, and Environmental Impacts.  The facility's first step towards obtaining a Sustainable Tourism Certificate is demonstrating effective sustainable management. Numerous subsequent steps are required for verification/certification, including developing sustainability policies and action plans, creating accurate promotions, and communicating performance to stakeholders through regular reporting. In addition, facilities are required to organise sustainability-related training.
These measures are intended to maximise each accommodation facilities' environmental benefits while minimising adverse effects. Each facility is expected to meet several requirements, such as prioritising local and fair-trade suppliers, minimising water and energy consumption, managing solid waste, implementing recycling practices, and implementing biodiversity and landscape protection measures.
At the same time, accommodation facilities are assessed regarding their cultural and socio-economic impact. Accommodation facilities are expected to protect cultural heritage, allow guests to interact with local culture, support the regional economy and contribute to prosperity through practices such as encouraging local employment, promoting local purchasing, and supporting local entrepreneurs.
For more details about Türkiye's National Sustainable Tourism Programme: www.goturkiye.com