Jamaica Attractions and Adventures
Jamaica is an island of extraordinary beauty, with a rich cultural wealth and a tremendous range of accommodations, fun and countless natural attractions, which are both entertaining and informative.
For the adventurous traveller, there's so much to see and do while in Jamaica to get your heart pumping. Through a variety of tour operators spread across the north and south coast, you can experience this diverse destination from land or water.
For sheer excitement, check out the huge roster of tours offered by local operators island wide – all offering activities geared toward making your visit a fulfilling and rewarding experience. Wonderfully varied, they include: horseback riding on the beach; ATV tours; plantation visits; canopy tours; Jungle River tubing; a Black River safari; a reggae tour; swimming with dolphins; catamaran cruises; rafting; and much more.  (http://www.visitjamaica.com/things-to-do/active-and-relaxing/tours)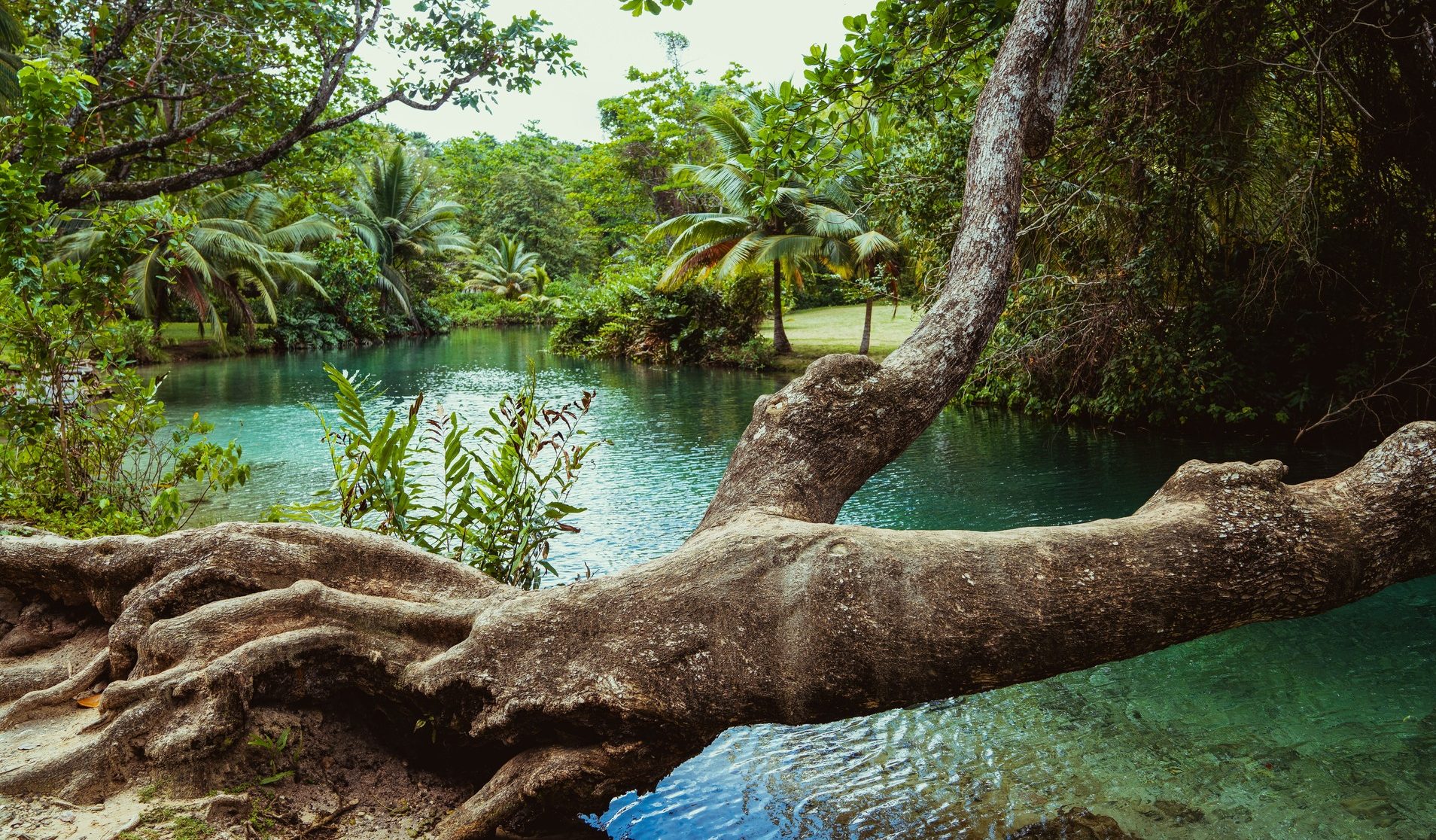 Kingston "The Heartbeat of Jamaica"
Bob Marley Museum
Are you a Bob Marley Fan? Tour his former residence and recording studio which is now a museum. For more information, visit: www.bobmarleymuseum.com.
 Hope Botanical Gardens & Zoo
Visit the largest botanical garden in the West Indies which has a Zoo. For more information, visit: www.hopezookingston.com.  
 Emancipation Park
A Tropical Oasis in the middle on "New Kingston" that offers a relaxed environment for the entire family with a jogging trail. For more information, visit www.emancipationpark.org.jm.
Devon House
Fascinated by history? Tour this restored great house which was home to the first black millionaire in Jamaica. There are also several kiosks on property such as bakery, restaurants, souvenir shop and ice-cream shop. For more information, visit www.devonhousejamaica.com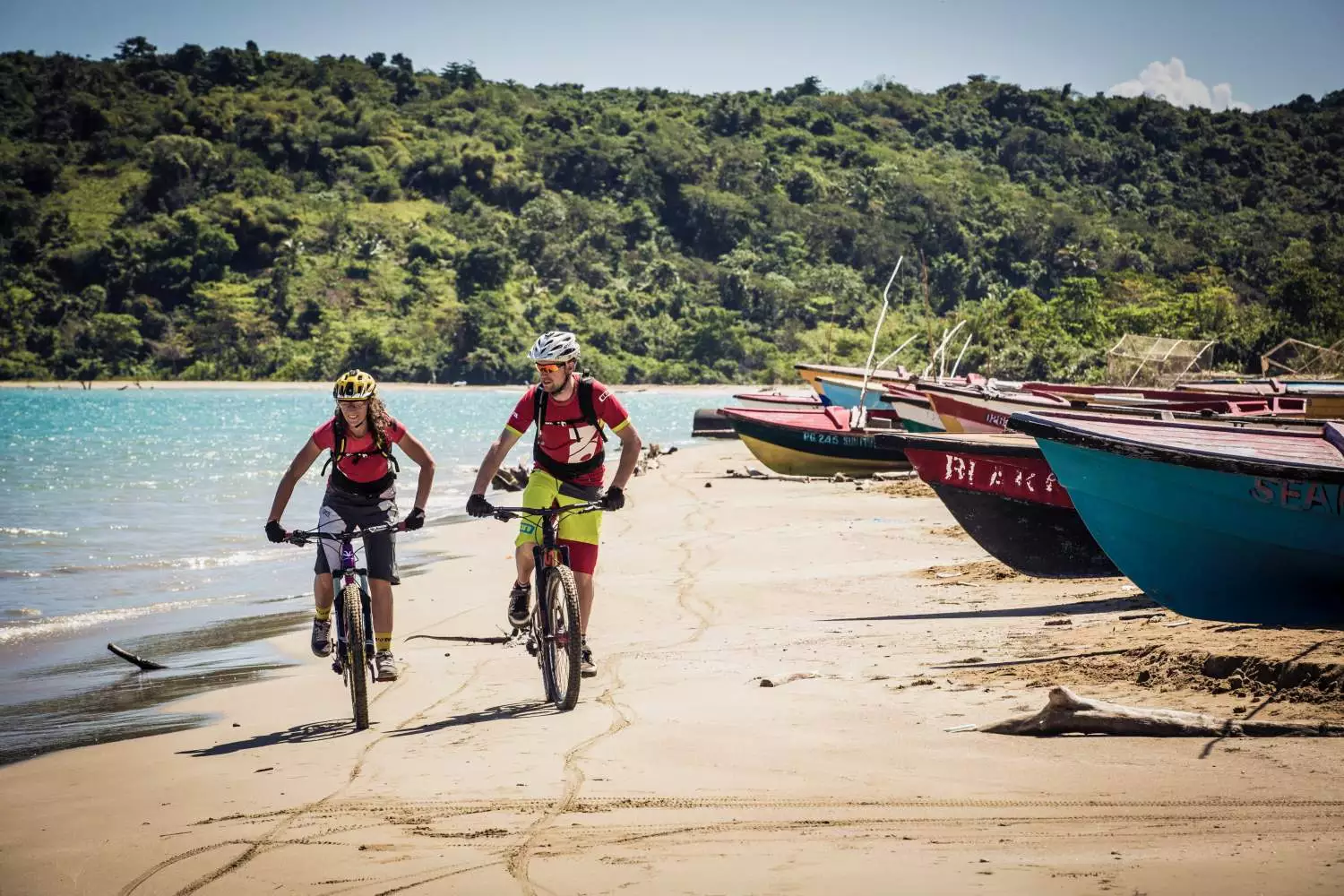 Ocho Rios "The Centre Piece of Jamaica"
Dolphin Cove
Swim with the Dolphins and take a trek along a jungle trail. Then check out the Shark Show and get in the deep with the Sting Rays. For this experience, visit: www.dolphincoveja.com
Mystic Mountain
Are you a Cool Runnings fan? Ride your very own Bobsled through the rainforest and visit the museum before venturing up to the "Look Out Point" to see the spectacular view of the coast of Ocho Rios. For more information, visit: www.rainforestadventure.com/jamaica-mystic-mountain.
Dunn's River Falls and Park
This world renowned attraction has become one of Jamaica's gems.  Climb this natural flowing waterfall which extends across more than 183 metres or 600 feet. Learn about its history by visiting: www.dunnsriverfallsja.com/falls.
YaaMan Adventures
Experience 1000 acres of adrenaline filled, off road buggy ride or a friendly interaction in our Camel Trekking Safari. Visit: www.yaamanadventure.com for more information.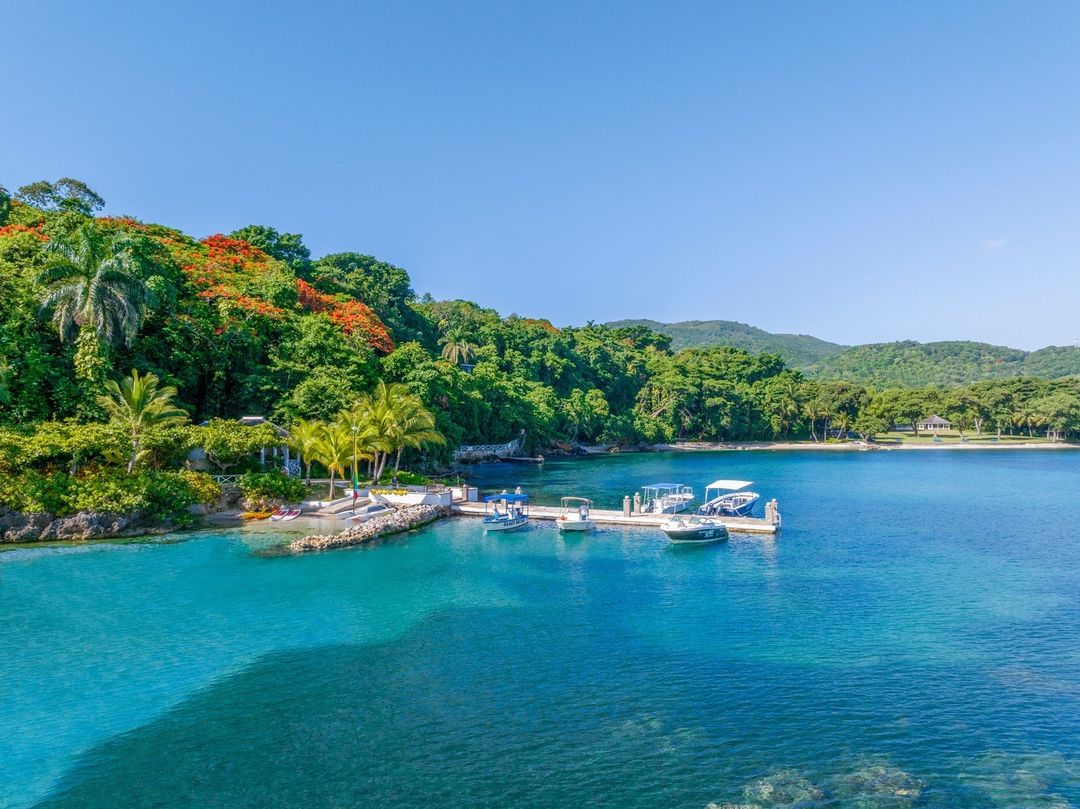 Negril "The Capital of Casual"
Seven Mile Beach
Visitors to this pristine white sandy beach can enjoy numerous water sport activities such as scuba diving and snorkelling. For more information, visit: www.visitjamaica.com.
Kool Runnings Water Park
Visit Jamaica's largest waterpark which has its very own paintball shooting, Go-Kart Track and Astronaut experience. For more information, visit: www.koolrunnings.com.
Ricks Café
Are you brave enough to dive from some 35 feet from a cliff? Check out Ricks Café on the west end of Jamaica. Listen to live Reggae music and wait to see a spectacular sunset. For more information, visit www.visitjamaica.com.
Mayfield Falls
A breathtaking waterfall on a 5-acre property, including cliff jumping and a natural Jacuzzi. For more information, visit: www.visitjamaica.com.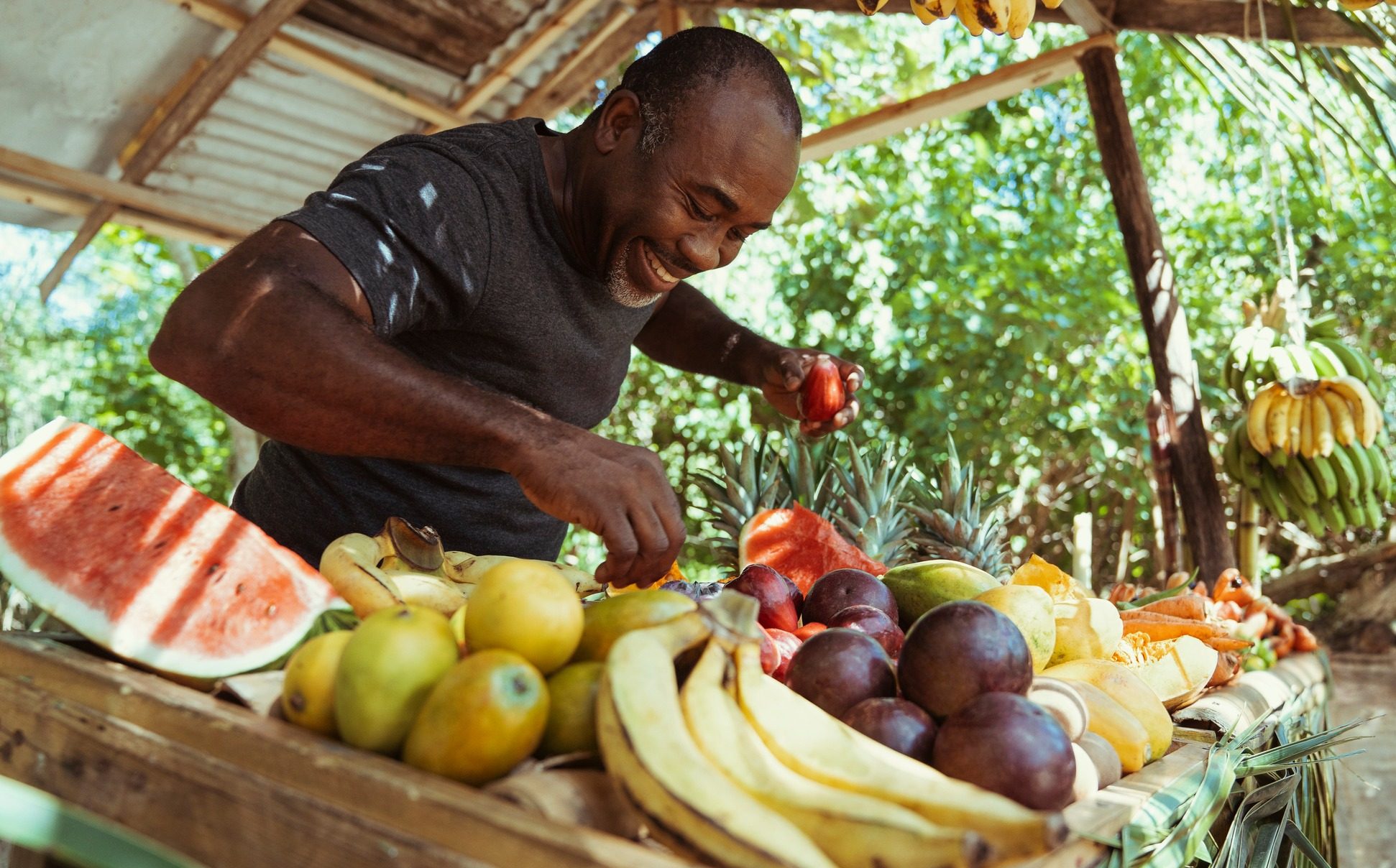 Montego Bay "The Complete Resort"
Rose Hall Great House
Tour this restored 1760 plantation house and learn about the history of Annie Palmer, the "White Witch". For more information, visit: www.rosehall.com.
 Margaritaville Caribbean Bar & Grill
Located on MoBay's Hip Strip, this hotspot offers delicious menus and 52 flavours of Margaritas. If looking for a great night out, take your dancing shoes as this is the place to be.  For more information, visit: www.margaritavillecaribbean.com.
Doctor's Cave Beach
Arriving at the Sangster International Airport (MBJ) and anxious to get to the beach? This is the perfect location to get your feet wet as it is only a 5 minute drive. Visit: www.visitjamaica.com for more information.
Championship Golf Courses
Montego Bay is home to several Championship Golf Courses and annual tournaments. Visit: www.visitjamaica.com for your listing.
River Tubbing
Jamaica has over 120 rivers and many meander through the rainforest allowing tube riders to enjoy a cool dip and enjoy  the sight and sounds of the jungle canopy. River tubing can be done in Ocho Rios at Chukka Caribbean on the White River.
Horse Back ride and swim
Experience the scenic Jamaican countryside and a bare back beach swim on one of the many immersive horseback tour. Enjoy the wonders of our tropical paradise while doing in tour close to the resort towns of Ocho Rios, Montego Bay and Negril.
Reggae Marathon
The ultimate runners bucket list event, the Reggae marathon take place in December in Negril, but runners will find fun runs across the island every weekend, many in scenic locations and with good vibes.
River Rafting
Jamaica's number one attraction where visitors drift down a lazy river at the Blue Lagoon in Port Antonio, on the White River in Ocho Rios or on the Martha Brae in Montego Bay.
Rum Factory
We all know its hard work drinking. Plan a trip to the beautiful south coast and try some of our delicious Jamaican rum at the Appleton Estate or Hampden Estate in Trelawny on Jamaica's North Coast.
Catamaran Cruise
Cruises for everyone, from romantic sunset dinners to the ultimate Jamaican boat parties! Learn to dance and enjoy the best rum punch on the high seas.
Bob Marley Museum Tour, Nine Miles
Take an off the beaten path tour to the birth place of the Legendary Bob Marley. This is one of the top cultural tours on Jamaica's North Coast.
GASTRONOMY – BOSTON BEACH FOR STREET FOOD STANDS, RUM, COFFEE, JERK, NORMA'S ON THE TERRACE IN KINGSTON, SEAFOOD,
We might be famed for our tasty Jerk chicken but there are plenty more Jamaican delicacies to whet your appetite. How about some freshly caught seafood, lobster, snapper and festival or pork marinated with traditional Jamaican spices? Of course, if you really want to eat like a local, you can always try curried goat or Ackee and Salt fish – both islander favourites.
If you want to learn more about our island drinks, you can always visit the Appleton Rum factory or visit a local rum bar for a game of dominoes.  After dining the best way to wash down all that Jerk chicken is with a Red Stripe Beer or Rum Punch of course. They go hand-in-hand. Why not see what your bar tender recommends, my suggestion is a long yellow bird, or a cool Rum N Ting, or a Planters Punch; in Jamaica it all no problem! http://www.visitjamaica.com/things-to-do#cuisine
BEACHES – DOCTOR'S CAVE BEACH, FRENCHMAN'S BAY, JAMES BOND BEACH (FEATURED IN DR NO), LIME CAY, ART AND CULTURE – MUSIC, SCULPTURE, POTTERY, PAINTING, DANCE
NIGHTLIFE
Music and Nightlife in Jamaica are as eclectic and fun as you'd expect. You can't visit Jamaica without enjoying some reggae music which is synonymous with Jamaican culture. So head out and learn the local dance moves which are a mixture of African and European influences.  Local night spots like Margaritaville offer the perfect opportunity to dine and dance. Dance on the sands at parties in Negril and Montego Bay's Hip Strip. You'll get copious servings of soca, calypso, and reggae. Serious reggae fans should head to one of Kingston's sound systems dancehalls for the real deal. (http://www.visitjamaica.com/things-to-do/active-and-relaxing/nightlife#page-1)
Our beaches offer a truly classic tropical experience. Grab a juice or a cocktail, get your swimwear on, and get in for a day of utter relaxation (http://www.visitjamaica.com/things-to-do/active-and-relaxing/beaches)
There's so much to discover beyond Jamaica's beaches. Jamaica has several natural features such as rivers, mountains, waterfalls, and plantations. Get exploring! (http://www.visitjamaica.com/things-to-do/active-and-relaxing/adventure)
The art of Jamaica is beautifully unique. Check out galleries and see creativity with a distinctively island flavour. (http://www.visitjamaica.com/things-to-do/events-and-culture/art)
There's a world of exciting culture in Jamaica that's worth checking out. From Columbus' discovery of Jamaica to the history of Falmouth and Ian Fleming's James Bond stories, immerse yourself in what makes us who we are today. ( http://www.visitjamaica.com/things-to-do/events-and-culture/historical-sites)