ITAA Conference Antalya 2023
ITAA Conference Day 2023 was quite unique as we're honoured to have a female President Angela Walsh and a female CEO Clare Dunne. Unfortunately, Emma Mc Hugh couldn't attend due to illness, but it was acknowledged that hard work amongst all the ITAA board members was over and above the call of duty. Our amazing hotel, Concorde de Luxe resort, was very special and no stone was left unturned (apart from at the historical sites which are many and wonderful!) to ensure our comfort. Unfailingly pleasant and helpful staff at Concorde need to take a bow. Our President Angela quoted: "If you want to go fast go alone, if you want to go far go together". This was particularly apt as the conference aim was to embrace growth and strategies for success. We were urged to be open to change, try something new and step outside our comfort zones. As always, our Moderator and brilliant MC, Eoghan Corry, led the proceedings and put guests at their ease.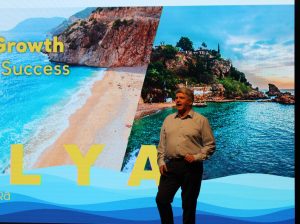 Tuncay Eminoglu from SunExpress advised the incredible growth within his company and that Ireland will see 7 weekly flights from Izmir and 3 weekly rotations to Antalya for 2024.
Timucin Guler from Turkish Tourism stated that tourism from Ireland had exploded since Covid times and figures in future were expected to reach epic proportions. Turkiye is now the 4th most popular holiday destination worldwide.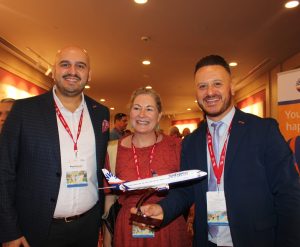 Oonagh O'Hagan of Meagher's Pharmacies retold her brilliant personal life story and her business success. Nothing more powerful than people with purpose!
Sinead O'Reilly from Travelport joined us by video link to update us on their retailing platform and technology for agents.
Padraig O'Maille (Galway based mentor) urged travel agents to think clearly and told them they don't sell airline seats, but they sell destinations.
A panel discussion with Many Denton (Sunway), Jennifer Callister (Royal Caribbean), Brian Hynes (Travel Corporation) Dave Smith (TUI) and Suzanne Rowe (MSC) was lively and engaged. The importance of training was emphasised; stepping up to the plate when problems arose; commitment to trade; knowing your clientele and making sure travellers had adequate insurance.