Fareteam with Travelbiz. Francis Mc Cabe welcomes you.
We are thrilled to be working with the World Travel Centre's FARETEAM team of travel professionals.
Today we Introduce you to Francis McCabe, Agency Relationship Manager for World Travel Centre.
Hi Everyone,
Francis McCabe here, Agency Relationship Manager for World Travel Centre and I'd like to introduce myself (if you don't already know me) and tell you about our agent's flight booking platform Fareteam.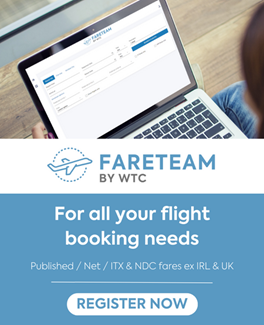 Having launched in 2022 Fareteam has grown from strength to strength and as a result has become the go to platform for flight bookings and discounted airfares.
Fareteam was designed to make flight bookings easier for Travel Agents and Tour Operators and is loaded with features to streamline your processes as well as being fully supported by our Consol team.
We are constantly listening to feedback and have a roadmap for future developments to bring you over the coming months.
Should you wish to obtain access or set up a demo/training please feel free to email me at: francis.mccabe@worldtravelni.com