Fareteam Newsletter Sign up today
Stay connected with Fareteam
Sign-up to our mailing list for the latest news, updates and features from WTC and our airline partners. Each month we bring you the chance to win prizes sponsored by our airline of the month. So far, we have given away gift vouchers / football match tickets & office lunches.
Sign-up: http://eepurl.com/hFhX_P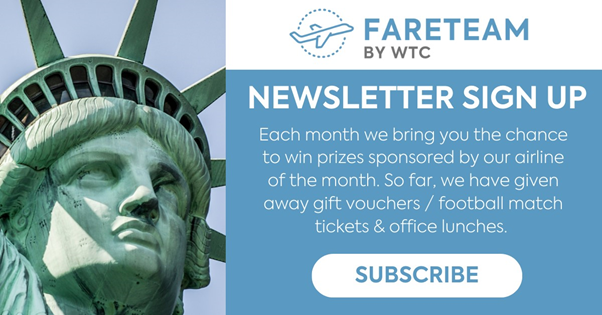 NDC via Fareteam – Now Boarding!
Airline retailing has been transformed over the past few years on an almost daily basis.
And NDC (New Distribution Capability) is at the forefront of how airlines are distributing their services by delivering a wider range of personalised offerings to customers.
While NDC provides new possibilities and opportunities for Travel Agents it doesn't come without various hurdles and here at WTC we have developed and tested our own NDC solutions for both British Airways and Lufthansa and we are excited to make this content seamlessly bookable via Fareteam.
NDC is not available through standard GDS channels and there is no 'one a size fits all' airline solution. However here at WTC we are looking to change that and provide travel agents access to an easy use solution that requires no additional integration / training or investment in new technology.
As much as we would like NDC to go away, the truth is it is here to stay and embracing it will not only give us the edge over the competition but all our Fareteam users as well.
We will continue to add new content as and when airlines provide us with scalable and reliable NDC solutions and all future NDC releases will be announced in our monthly newsletter.